COAT OF ARMS DETAILS
One part of this coat of arms can be seen on a seal of King Vukasin from 1370 but the shield was missing. White eagle is presented most likely because it was considered as the symbol of Serbia (though here it has one head only) and many noblemen used to put the eagle ornaments on their clothes and personal things. Another powerful symbol that can be found on Serbian official coat of arms, is four "C" shaped fire-starters.
The family of Mrnjavcevic was the first Serbian family that collided with the Turkish conquerors. The battle of Marica in 1371 was lost and the Turks kept on approaching the rest of the country.
Both brothers, Ugljesa and Vukasin were killed in the battle, and Vukasin's son, Marko was proclaimed the new king. Although Marko was in fact subjected to the Turkish rule, folk songs of the time captured his deeds and proclaimed him as a new hero, a knight of supernatural strength and abilities. King Marko was killed in 1395 while he was in the military campaign of Sultan Bayazit I.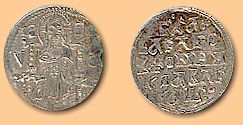 King Vukasin's coins
After this death, the family of Mrnjavcevics very soon disappeared and we don't know much about the other family members. Ugljesa's wife Jelena, went to the monastery and became nun Jefimija and she embroidered the famous "Praise for St. Prince Lazar" which is available within the Manuscripts section.