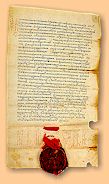 Prince George's Charter
This section of the Medieval Serbia web site presents some of the most important manuscripts and documents from the medieval times.
They were mostly related to the religious and state issues. The most popular type texts were those dealing with the lives of the Serbian medieval rulers, kings who were leaving their crowns to their sons and were retiring to their endowments as simple monks.
The current selection of the medieval texts can be found in the 'chapters' pane on the left side of this page.
You can download these texts as Microsoft Word, OpenOffice.org Writer or Adobe PDF documents in the Download section of the Medieval Serbia web site.