Miroslav's Gospel is the oldest Serbian medieval book that still can be seen in the National Museum in Belgrade. It was copied for Stefan Nemanja's brother Miroslav (1171-1197) by Gligory the Pupil who copied the Gospel. This text is unique because it unites the Eastern style of writing with the Western way of ornamenting where the artist used red, green, yellow, brown and golden colors.
Various ornaments and initials from this manuscript are also used within this web site in order to convey the message and the art of the medieval times.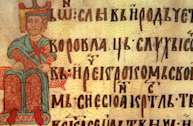 Detail from the manuscript
This precious document had an exciting history - king Peter I carried it with him during crossing of Albania in World War I, and once it was even thought that it has been lost.
The most interesting thing is that he inserted some personal views at the end where we can see that he was in some kind of trouble and that his master, Duke Miroslav did not like him very much - that personal entry can be read right here:
I, sinful pupil Gligory, unworthy to call myself a pupil, have ornamented with gold this Gospel to the glorious prince Miroslav, Zavida's son. My lord, do not forget me, do not forget about my sinful soul, but keep me to your side so I do not regret my lord, that I had worked for you if your will is to reject me.