These monasteries have been erected by the Serbian medieval kings who used to give their crown and state to their sons and then they would retire to their endowments devoting themselves to the faith and art. Along with the photograph you can read few lines about these magnificent buildings.
Studenica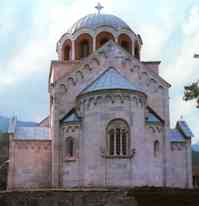 Monastery of Studenica was erected by Stefan Nemanja at the end of 12th century. It is built in the style of Byzantium architecture. This monastery presents a magnificent unity of sculptural effects and architectural skill and it is protected by UNESCO.
Zica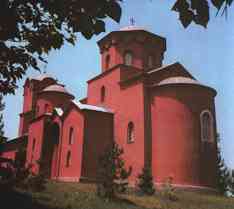 Stefan the First Crowned erected Zica monastery in 1208 as his endowment and it became Serbian archiepiscopal centre. It was painted in red like churches on Athos. During the past centuries Zica was badly damaged and the last reconstruction was back in 1928.
Mileseva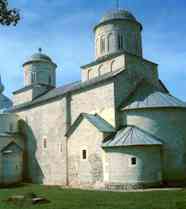 Located near Prijepolje and built in 1219, Mileseva had very important role in the Serbian history. St. Sava's body was brought there and books were printed as well. The master-piece of Serbian medieval painting, "The White Angel" can be seen in Mileseva.
Sopocani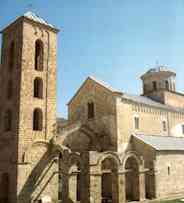 Uros I erected it in 1263 as his family's mausoleum. Sopocani were badly damaged in 1389 by the Turks and again in 1689. It was repaired in 1926 and soon UNESCO got it on its list.
Gracanica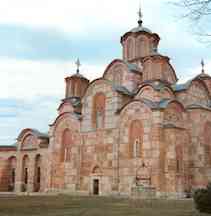 This monastery was built on the grounds of an earlier building back in 1315. This master-piece of Byzantum style has a lavish interior decorated with frescoes. For a short time Gracanica even had its own printing press.
Decani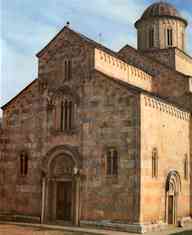 Uros III invited a catholic architect for Decani, also called "High Decani" and it is a unique combination of eastern and western church style. A monumental family tree of Royal Frescoe of the Nemanjics family tree can be seen in this most preserved monastery of medieval Serbia.
Chilandar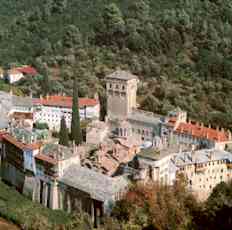 First mentioned in 1076, Chilandar was enlarged by Stefan Nemanja in 1198. King Milutin modified it in 1303 and Prince Lazar followed this example in 1389. Chilandar has the greatest collection of Serbian medieval books, documents and manuscripts. Women are not allowed to cross the gates of this monastery and men must ask for a special permission.